The world's top 500 and global foreign Companies energizing Wuhan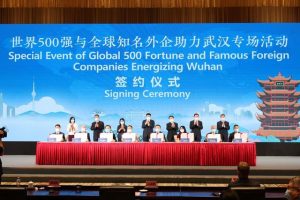 6月12日,世界500强与全球知名外企助力武汉专场活动成功举行,旨在通过国际经贸交流和扩大外商有效投资,推动武汉创新发展,共同打造中国内陆改革开放的新高地。
湖北省委常委、武汉市委书记王忠林出席活动并向海内外嘉宾真诚推介,诚邀广大外企继续看好武汉、投资武汉,助推武汉统筹推进疫情防控和经济社会发展。市委副书记、市长周先旺出席活动。
来自英国、美国、德国、法国、日本、韩国及中国香港等国家和地区的近百名世界500强及全球知名企业高管、境外驻汉机构和外资商协会高层云集在活动现场和线上视频,与武汉畅叙友情、共谋发展,为武汉与知名外企间又架起了更加紧密的开放合作桥梁。中国欧盟商会主席伍德克、中国美国商会总裁毕艾伦、香港瑞安集团主席罗康瑞、新风天域公司联合创始人兼集团董事长梁锦松、鹰君集团主席兼董事总经理罗嘉瑞、荟同国际学校主席兼CEO魏克礼、德国思爱普全球高级副总裁、中国区总经理李强、日本三菱电机执行董事、中国区总代表富泽克行、瑞士罗氏制药中国区总裁周虹、香港友邦保险中国区首席执行官张晓宇、法国液化空气中国首席执行官柏昊天、德国勃林格殷格翰大中华区总裁高齐飞、韩国SK综合化学副总裁李定勋、法国电力集团中国区执行副总裁罗兰、印度印孚瑟斯副总裁康博瑞等嘉宾对武汉发展前景充满信心,他们纷纷表示,很欣喜地看到武汉正在加速复苏,相信武汉会迎来新一轮的发展,将一如既往地看好武汉、支持武汉,持续扩大在汉投资,探索新的合作机遇,助力武汉经济腾飞。
活动现场,20个质量优、产出好、带动性强的涉外项目集中签约,其中利用外资项目18个,外贸出口项目2个,签约金额658亿元(约合93亿美元),主要涉及汽车及零部件、智能制造、健康医疗、商贸物流、教育服务、创新金融等领域。来自英国、法国、日本等发达国家签约项目占比超过50%。港资布局武汉势头不减,社交电商、软件研发等一批香港高端服务业为疫后武汉经济发展引擎加油。签约总部项目5个,占签约项目近四分之一,将进一步吸引产业、人才、科技等高端要素向武汉汇聚。这些签约项目,不仅可以为我市产业发展注入源源不断的新动能,而且打开了武汉与世界对话的新窗口,塑造武汉开放型经济发展新优势,助推武汉经济高质量发展。
王忠林在致辞中表示,

今天的武汉,经受住了百年不遇疫情的重大考验。近期,武汉在全市范围开展集中核酸检测,没有发现一例确诊病例、无症状感染者没有发现一例转确诊、密切接触者没有一例阳性、病毒培养没有一例活病毒、环境样本没有一例阳性,充分表明武汉人民是健康的,武汉是安全、干净的。

"英雄的武汉整装再出发!"王忠林说,武汉区位交通优越、产业基础优厚、科教资源优质、生态环境优美,正处在疫后重振、浴火重生关键期,也是外企在汉投资发展重要窗口期。
海阔凭鱼跃,天高任鸟飞,机遇叠加的武汉是外企投资兴业的广阔舞台,我们衷心希望,与广大外企和天下英才紧密携手,共享发展机遇,共同打造中国内陆改革开放新高地;
种竹期龙至,栽桐待凤来,资源富集的武汉是外资进入中国内地的首选之地,我们热切期待,广大外企选择武汉、扎根武汉,在这片沃土撒下希望的种子,收获丰硕的果实。
"笑迎八方客,广结天下缘。"王忠林表示,热情好客的武汉,更是外商宜居宜业的美好家园。我们将全力提供最顺心的服务环境、最安心的投资环境、最舒心的生活环境,为项目落地和企业发展提供全过程、全方位"保姆式"服务,构建"类海外"生活场景,让广大外籍人士在汉安心工作、舒心生活。
---
On June 12, the world's top 500 and world-renowned foreign enterprises helped hold a special event in Wuhan, aiming to promote innovation and development in Wuhan through international economic and trade exchanges and expand effective foreign investment, and jointly create a new highland for China's inland reform and opening up.
Wang Zhonglin, member of the Standing Committee of the CPC Hubei Provincial Committee and Secretary of the CPC Wuhan Municipal Committee, attended the event and sincerely recommended it to guests at home and abroad. We sincerely invite foreign enterprises to continue to take a good view of Wuhan and invest in Wuhan, so as to boost the overall promotion of epidemic prevention and control and economic and social development in Wuhan. Zhou Xianwang, deputy secretary of the municipal Party committee and mayor, attended the event.
Nearly 100 world top 500 and global well-known enterprise executives, overseas institutions in China and foreign business associations from the United Kingdom, the United States, Germany, France, Japan, South Korea, Hong Kong and other countries and regions gathered at the event site and online video, chatting with Wuhan for friendship and common development, and building a closer open cooperation bridge between Wuhan and well-known foreign enterprises. Wu Deke, chairman of the European Chamber of Commerce of China, Bi Allen, President of the American Chamber of Commerce of China, Luo Kangrui, chairman of Hong Kong Ruian group, Liang Jinsong, co-founder and chairman of Xinfeng Tianyu company, Luo Jiarui, chairman and general manager of Yingjun group, Wei Keli, chairman and CEO of Huitong International School, Li Qiang, global senior vice president, general manager of China, and Mitsubishi Electric Co., Ltd Fu zekexing, director of the bank, general representative of China, Zhou Hong, President of Roche pharmaceutical in China, Zhang Xiaoyu, CEO of Hong Kong AIA in China, Bo Haotian, CEO of Air Liquide in France, Gao Qifei, President of Greater China of bringer Ingelheim in Germany, Li dingxun, vice president of SK integrated chemistry in South Korea, Roland, executive vice president of power group in China and India India Futhers vice president Kang Borui and other guests are full of confidence in Wuhan's development prospects. They have expressed that they are glad to see Wuhan's accelerating recovery, and believe that Wuhan will usher in a new round of development. They will continue to value Wuhan, support Wuhan, continue to expand investment in China, explore new cooperation opportunities, and help Wuhan's economy take off.
At the event site, 20 foreign-related projects with high quality, good output and strong driving force were signed, including 18 foreign-funded projects, 2 foreign trade export projects, with a signed amount of 65.8 billion yuan (about 9.3 billion US dollars), mainly involving automobile and parts, intelligent manufacturing, health care, business logistics, education services, innovative finance and other fields. More than 50% of the projects signed by developed countries such as Britain, France and Japan. The distribution of Hong Kong investment in Wuhan keeps growing. A number of high-end service industries in Hong Kong, such as social e-commerce and software R & D, are fueling the economic development engine of Wuhan after the epidemic. Five signed headquarters projects, accounting for nearly a quarter of the signed projects, will further attract industries, talents, science and technology and other high-end elements to gather in Wuhan. These signed projects can not only inject new energy into the industrial development of Wuhan, but also open a new window of dialogue between Wuhan and the world, shape the new advantages of Wuhan's open economic development, and boost the high-quality development of Wuhan's economy.
Wang Zhonglin said in his speech,
Today's Wuhan has withstood a major test of the epidemic that never happened in a hundred years. In recent years, Wuhan has carried out centralized nucleic acid testing in the whole city, and no confirmed case has been found, no case of asymptomatic infection has been found, no case of re diagnosis has been found, no case of close contacts has been positive, no case of virus culture has been living, no case of environmental samples has been positive, which fully shows that the people of Wuhan are healthy, and Wuhan is safe and clean.
"The hero's Wuhan is ready to start again!" Wang Zhonglin said that Wuhan is in a critical period of post epidemic revitalization and rebirth, and also an important window period for foreign enterprises to invest and develop in China, with superior location, transportation, industrial base, high-quality scientific and educational resources and beautiful ecological environment.
We sincerely hope to work closely with foreign enterprises and talents in the world to share development opportunities and jointly build a new highland of reform and opening up in inland China;
It's the first choice for foreign capital to enter the mainland of China. We are looking forward to that, the vast number of foreign enterprises choose Wuhan and take root in Wuhan to sow the seeds of hope and reap fruitful fruits in this fertile land.
"Welcome guests from all over the world with a smile." Wang Zhonglin said that Wuhan, a warm and hospitable city, is a wonderful home for foreign businessmen to live and work in. We will try our best to provide the most comfortable service environment, the most comfortable investment environment and the most comfortable living environment, provide the whole process and all-round "nanny" service for the project implementation and enterprise development, build a "similar overseas" life scene, and let the majority of foreigners work and live comfortably in Han.